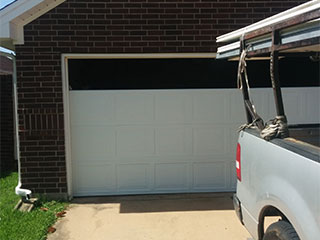 The complexity of garage door systems makes their potential to malfunction quite high. There are simply too many moving parts involved in their operation for nothing to ever go wrong. There is a way to reduce that risk, though. It's called – professional maintenance.
Proper Spring Lubrication
The squeaky wheel gets the grease, as the saying goes, and your garage door springs are practically squealing. As opposed to the proverbial wheel, that will simply get stuck or fall off if it doesn't get tended to, your springs can actually harm you if you neglect them. By having our professional technicians apply the proper lubricant to their bodies, you're effectively making sure that these crucial components will be able to operate more smoothly, and for much longer than they regularly would.
Straightening Bent Tracks
That scratching or grinding noise you're hearing may not necessarily come from your system's springs. If your track has gotten bent or dented somehow, your door could be grinding against it each time it's being used. Apart from the annoyance factor, there's some actual risk involved. If your track isn't straightened back to its original shape, your door could potentially slide off it by accident, and there's no need to emphasize the dangers involved in the collapse of a 200+ pounds object, now is there? Our maintenance specialists will examine your track upon every visit and make sure it's clean and straight, so that the smoothness of your system's operation won't be negatively affected.
Realigning Eye Sensors
Although you can barely notice them sometimes, your system's photo-eye sensors are arguably the most important parts of the entire mechanism. These sensors are in charge of detecting when an object or a person has come to block the door's path. When they detect such an obstacle, they throw the system into reverse-mode, thus preventing personal injury and/or property damage. If they get misaligned accidently, their ability to detect an obstacle will be compromised. Our experts always test the door's reverse mechanism when they perform a maintenance routine, and they'll realign your delicate sensors to ensure the safety of you and your family members.
Contact our professional service team at Garage Door Repair Roseville today and get your door properly maintained by our highly skilled technicians.
When it comes to your door, we don't settle! We also offer:
Garage Door Tune Up Services
Belt Drive Garage Door Openers
Garage Door Extension Spring Replacement