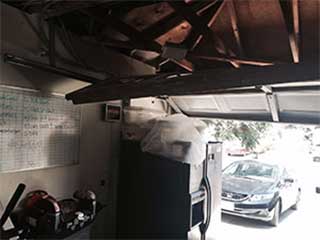 Are you looking for a reliable garage door service company to take care of all your repairs and maintenance needs? Then look no further than our team at Garage Door Repair Roseville. From broken springs and bent tracks to faulty openers and torn cables, we can provide you with every type of professional assistance you may need, and we'll ensure your door is as safe and secure as it can possibly be.
Reliable Service Technicians
Our garage door experts have acquired a great deal of experience over the years. We are extremely skilled in repairing doors of all shapes and sizes, from simple manually operated ones to fully automated, remote-controlled systems. Whether you're faced with a door that's come off its tracks, a torsion spring that's seen better days, a malfunctioning remote control, or any other type of problem, we're here to take care of it for you.
Professional Maintenance Appointments
Regular maintenance is a great way to make sure your door keeps running smoothly for as long as it possibly can. At Garage Door Repair Roseville, we can provide both routine or occasional garage maintenance appointments. The variety of safety tests and operation evaluation checks our technicians will perform will make sure your system is safe to use. We'll also conduct a thorough examination of every single internal and external part of your system, and if one of its many components is found lacking, we'll immediately replace it with a top quality substitute.
Safe Spring Replacement
Springs are an integral part of your garage door, which means keeping them in good condition is essential. As part of our maintenance routine, we always test the tension of these crucial components and adjust it if necessary. However, nothing lasts forever, and when one or more of your springs breaks, our specialists will safely replace it for you. It's imperative that you DO NOT attempt to handle these dangerous components by yourself.
Professional Opener Repair
While the automation of your garage door is meant to make your daily routine more convenient, a faulty opener can quickly become quite a burden. Not to worry. Our highly skilled technicians can handle every type of problem it may be inflicted by.
Whenever you find yourself in need of professional assistance, be sure to call our experts at Garage Door Repair Roseville to get your problems solved by the best service provider around.
Contact us today to find out more!
But wait, there's more! We also offer:
Part Replacement & Repair
Remote Opener Clicker Replacement
Torsion Spring Adjustment
Track Replacement & Repair