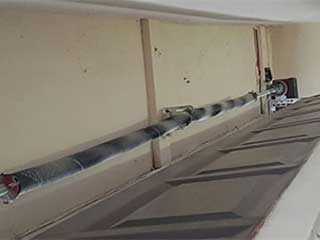 Springs are an invaluable part of your residential garage door, whether it's been automated or not. They are the "muscles" that help it open and close smoothly. Since they are usually under a great deal of tension, these crucial components can end up snapping and whipping around your garage. Lucky for you, there is a way to avoid it, as well as a way to handle the situation once it's occurred.
That's where we come in.
Spring Maintenance
Just like any part of any hardworking mechanical device, your garage door springs require some careful attention and care in order to continue to function properly over a long period of time. Our trained technicians can apply the appropriate lubrication necessary to keep their operation smooth and efficient, as well as test the balance and tension level of your garage door and adjust your springs accordingly.
Spring Replacement
Although our scheduled maintenance routine can usually help homeowners avoid these nasty incidents, sometimes, due to a variety of circumstances, a spring can end up getting too damaged. When it snaps, it will leave your garage door tilting, at best, or make it fall off completely. Naturally, this can be very dangerous, and therefore we recommend that you make sure your system is properly maintained throughout the year. However, in these rare – albeit not rare enough – scenarios, when a spring does break, our specialists can quickly replace it for you.
Leave it to the Pros
Although you may feel like the do-it-yourself option holds a more fulfilling appeal, we urge you not to attempt to handle something as dangerous as a garage door spring on your own. The enormous amounts of tension these components are under makes it extremely dangerous to deal with them without the necessary training.
Call today to get in touch with us!
Better leave any problem to our extremely skilled team at Garage Door Repair Roseville. We'll get everything fixed fast and won't put yourself, your belongings, and – most importantly – your family in harm's way.
We also offer:
Roll up Garage Door Maintenance
New Opener Remotes & Clickers
Garage Door Cable Replacement
Extension Spring Adjustment